Open Letter From Scientists In Response To Bjorn Lomborg's Latest Op-Ed
17 Apr 2016
|
In response to Bjorn Lomborg's latest op-ed in the Wall Street Journal -- one that claimed that the recent report from the US Global Change Research Program on the impact of future climate change on American public health was misleading -- a number of scientists in the relevant fields recently completed and released an in-depth analysis of the op-ed.
The conclusion? Bjorn's account of things is misleading to readers. Following the completion of the analysis, an open letter (which was not published) was sent to the Wall Street Journal providing arguments on that matter.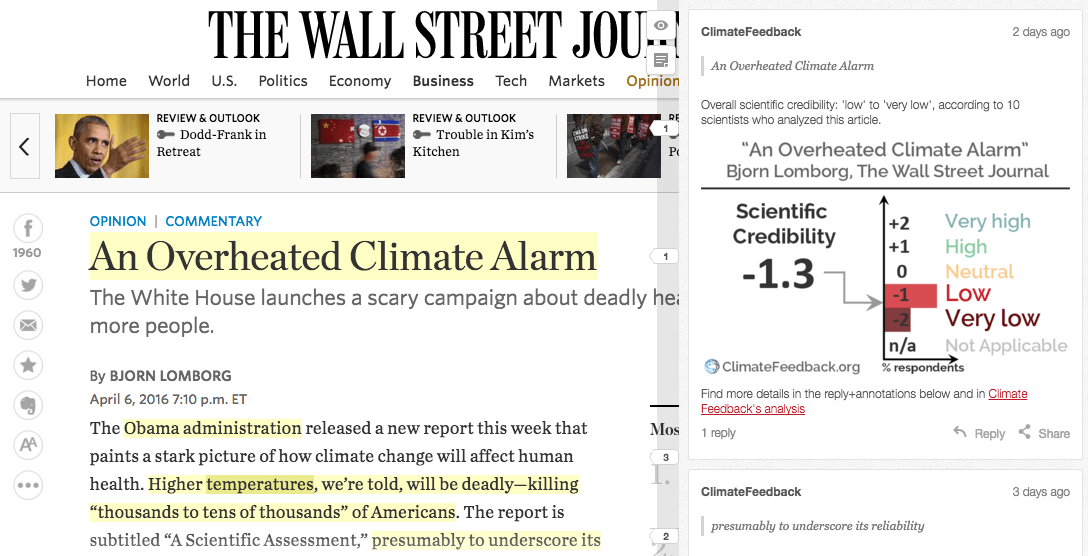 Here are some excerpts from that open letter (sent by Emmanuel Vincent, Scientist at the University of California, Merced -- Lead Scientist of ClimateFeedback.org):
...While the US GCRP report is based on thousands of scientific publications, Lomborg cherry-picked only a few to support his case that 1) "cold kills many more people than heat" and 2) "climate change will reduce the number of cold days" and "that will cut the total number of cold-related deaths."
To support his first point, Lomborg relied on a study published by Dr Antonio Gasparrini in The Lancet. Dr Gasparrini, Senior Lecturer in the London School of Hygiene and Tropical Medicine, told Climate Feedback that Lomborg's account of his own work was "misleading". He added that "the aim of this study is to establish the association between non-optimal temperature and mortality in the recent past. The article clearly acknowledges that these results cannot be easily extrapolated to the future."
Kristie Ebi, Professor of Global Health at the University of Washington, adds that: "Mr Lomborg is confusing seasonal mortality with temperature-related mortality. It is true that mortality is higher during winter than summer. However, it does not follow that winter mortality is temperature-dependent." The fact that people are more likely to die in winter has more to do with "incidence and virulence of influenza and similar diseases" says Philip Staddon, Philip L Staddon, Associate Professor at Xi'an Jiaotong - Liverpool University.
In response to Lomborg's second point, Dr Staddon commented: "The assertion that warmer winters equals less mortality is a schoolboy error." Professor Ebi concluded that "there is very limited scientific support for the claim that reducing the number of cold days will reduce the number of cold-related deaths."
While it being a "schoolboy error" is a possibility, another possibility is that it was intentional. Either way, though, the climate doesn't care about human argument and drama. Temperatures will continue to rise fairly rapidly for the foreseeable future, and impacts on human health (and a great many other things) will reliably follow.
Post a Comment